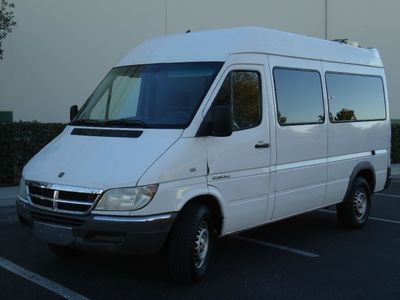 Dodge : Sprinter 2500 Super High Ceiling 2004 Dodge Sprinter 2500 passanger
Check out this great Sprinter Van listing!
Current Price: $8800.00 | Bid $8800.00 Now! | # of Bids: 0
End Time: 2013-02-02T22:16:25.000Z
| Located in Postal Code: 89115
FEATURED DEALER
Best Auto Buy
4365 Las Vegas Blvd N

Las Vegas, NV 89115
702-606-5666

FEATURED VEHICLE
2004 Dodge Sprinter 2500 2500 Super High Ceiling
VEHICLE DETAILS
Year:
2004
Make:
Dodge
Model:
Sprinter 2500
Trim:
2500 Super High Ceiling
Engine:
2.7L L5 DOHC 20V TURBO DIESEL
Transmission:
Automatic
Fuel Type:
Diesel
Exterior:
White
Interior:
Grey
Mileage:
313606
Vin:
WD5PD644645656300
Stock#:
WD5PD644645656300
Body Style:
Passenger Van
Condition:
Used
VEHICLE INFO
The electronic components on this vehicle are in working order. No defects. This vehicle does not have any door dings. There is a properly functioning engine in this vehicle. I would describe the exterior condition as clean. A non-smoker owned vehicle. This automobile has a clean interior. Actual miles. The transmission shifts smoothly. There does not seem to be any signs of prior damage to this vehicle. This vehicles tires have 75% tread left. Call 702-606-5666 or 702-327-8464
VEHICLE OPTIONS
Option List:ABS Brakes,Air Conditioning,AM/FM Radio,Anti-Brake System: 4-Wheel ABS,Body Style: SPORTS VAN,Cargo Length: 128.60 in.,Cassette Player,Curb Weight-automatic: 5186 lbs,Depth: 59.80 in.,Driver Airbag,Engine Type: 2.7L L5 DOHC 20V TURBO DIESEL,Front Brake Type: Disc,Front Spring Type: Leaf,Front Suspension: Ind,Full Size Spare Tire,Ground Clearance: 8.30 in.,Heated Exterior Mirror,Interval Wipers,Maximum GVWR: 8550 lbs,Maximum Payload: 3364 lbs,Maximum Towing: 5000 lbs,Overall Height: 95.00 in.,Overall Length: 226.00 in.,Overall Width: 74.00 in.,Passenger Airbag,Power Adjustable Exterior Mirror,Rear Brake Type: Disc,Rear Spring Type: Leaf,Rear Suspension: Live,Rear Window Defogger,Splash Guards,Standard GVWR: 8550 lbs,Standard Payload: 3364 lbs,Standard Seating: 10,Standard Towing: 5000 lbs,Steel Wheels,Steering Type: R&P,Tachometer,Tank: 26.00 gallon,Tires: 225/75R16,Track Front: 65.00 in.,Track Rear: 64.20 in.,Traction Control,Turning Diameter: 42.00 in.,Vehicle Anti-Theft,Vehicle Stability Control System,Wheelbase: 140.00 in.,Width at Wall: 61.40 in.,Width at Wheelwell: 50.00 in.
PHOTO GALLERY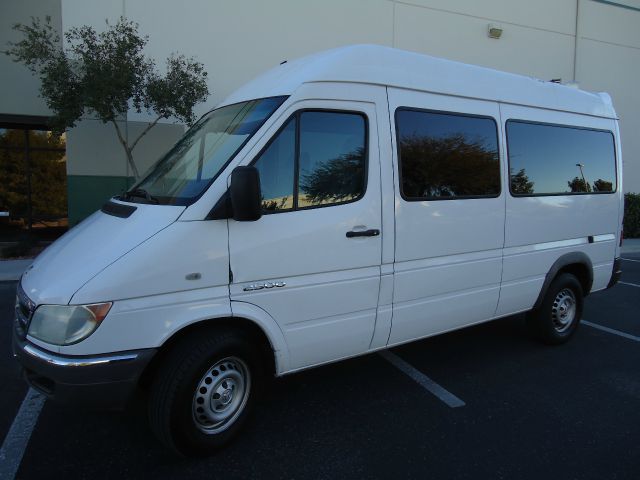 FINANCING
Need financing for your next vehicle? Good Credit, Bad Credit? No Problem!
Our online financing application is quick, easy and secure. The process is as quick
as a few questions about you and your employment. Find out quickly and painlessly.
Get Started Now!
SHARE WITH OTHERS
Ad generated by CarsForSale.com
CarsForSale.com is the most affordable and effective autolisting provider
Find out why.
Dodge : Sprinter 2500 Super High Ceiling 2004 Dodge Sprinter 2500 passanger
Check out this great Sprinter Van listing
Current Price: $8800.00 | Bid $8800.00 Now! | # of Bids: 0
End Time: 2013-02-02T22:16:25.000Z | Located in Postal Code: 89115