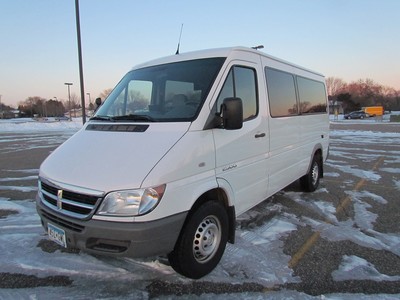 Dodge : Sprinter 2500 2005 Dodge Sprinter 2500 CUSTOM 15 PASSENGER
Check out this great Sprinter Van listing!
Current Price: $13000.00 | Bid $13000.00 Now! | # of Bids: 0
End Time: 2013-01-31T22:42:35.000Z
| Located in Postal Code: 55379
This is very beautiful van that has a 2.7 turbocharged diesel engine
that gets an awesome gas mileage!!! Very low miles right now at 70,xxx.
This is one of the very few vans that can hold 15 passengers.It also has
a huge 22" screen that is easily seen from the back row, custom stereo
with DVD player built in. Also has two AC units, one for the front and
one for the back. Although there is a salvage stamp on the title this
Van runs like a champ absolutely no problems with it. call/text me at
952-465-4361 with any questions I will be glad to answer them.
Dodge : Sprinter 2500 2005 Dodge Sprinter 2500 CUSTOM 15 PASSENGER
Check out this great Sprinter Van listing
Current Price: $13000.00 | Bid $13000.00 Now! | # of Bids: 0
End Time: 2013-01-31T22:42:35.000Z | Located in Postal Code: 55379