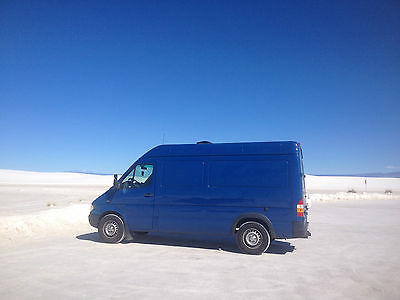 Dodge : Sprinter High Ceiling Sprinter 06 dodge mercedes freightliner sprinter van 2500 144 basic camper conversion
Check out this great Sprinter Van listing!
Current Price: $500.00 | Bid $510.00 Now! | # of Bids: 1
End Time: 2015-09-11T04:25:03.000Z
| Located in Postal Code: 37203
This van has been outfitted for extended travel. Its a very basic minimalist camper conversion but with enough to keep you very comfortable. The bed frame and kitchen can be easily removed if you want to use it as a cargo van. -New oil change-New EGR valve-New wheel bearings & Front Rotors, tone rings-Tires are good-Replaced rear axle-Brand new pulleys and belts-Passed Colorado emissions 11/24/15I have all the records from these repairs and the previous owner. I do not have any records of any past work. I am the third owner. This was a Kent Beverage truck for the first 200,000 miles.Work done to van for Van Life!-Rebadged front Mercedes grill. It does not have the extra grill mount piece.All the walls, ceilings and floors are insulated. Walls are done with 3 layers. First layer of metallic bubble wrap, reflextivex, then a layer of recycled denim (ultra touch, because F fiberglass), and a vapor barrier so things don't get musty. ceilings are a light wood with an inch of rigid foam insulation. -Fantastic brand fan with a reverse setting. 3 speed-3 foot tall bed frame that fits a full bed (probably fits a queen, too.) you have tons of storage underneath and even could have a second bed if you had a big family or group of friends. -kitchen cabinet, real nice. Includes a coleman camp stove if interested.-For the climbers I have a hangboard installed which I will most likely take but you can add your own.-floor is insulated with Reflectivex and then a layer of wood with marble vinyl on top. -Has trailer hitch with light attachment.-Has backup camera (has not been hard wired yet, but have all wiring)-Can include mini fridge if you want it. If you have seen this posting before the Generator and solar panel have been SOLD.-I have extra belts and an alternator brand new in the back. I liked to carry back up parts when we were in very remote areas.This van needs some TLC. There are a few minor and possibly bigger repairs that need to be done if you were going to drive cross country. We have no money to put into repairs and no longer need a vehicle since moving to Nashville, TN three months ago. The van is sold AS IS and I will try to be as accurate as possible describing its little quirks.-AC doesn blow very cold-Passenger side of windshield has a crack about 12 inches across. It has not got bigger since my dog head butted it 3 months ago. Does not affect driver visibility.CODES THAT IT IS GIVING***-P2333 S/C Vehicle Speed Sensor-P1482 Glow Plug Module-P2400 Pay R ABS sensorWe haven't driven the van much since getting back from California only short drives to Home Depot. The ABS, ESP, and wheel traction lights came on once we had a rear bearing replaced. I was told that its because the mechanic who did the job severed some wire accidentally for wheel speed? We have not been in a position financially to have it taken anywhere. This van has been extremely reliable for us and if you are looking for an inexpensive camper/new home on the road I can't recommend the Sprinter Vans enough. My girlfriend and I got to live out one of our dream and do a year of traveling around the U.S. We started with a tear drop trailer and upgraded to this van, Hans. We are investing in a new business venture and are back to city life. It is our hope that someone can put our van to good use! I think the perfect candidate for this van would be an outdoor lover who is mechanically inclined. If you are unfamiliar with Sprinter Vans check out some of the great forums available online they are a wealth of knowledge in deciding what van is right for you. We chose this van because the 2006 has the older engine that gets great gas mileage. We averaged about 25-27 a gallon!If you have any questions I would be more than happy to try and answer them, thanks!I am located in Nashville, Tennessee if you want to take it for a test drive.
Dodge : Sprinter High Ceiling Sprinter 06 dodge mercedes freightliner sprinter van 2500 144 basic camper conversion
Check out this great Sprinter Van listing
Current Price: $500.00 | Bid $510.00 Now! | # of Bids: 1
End Time: 2015-09-11T04:25:03.000Z | Located in Postal Code: 37203