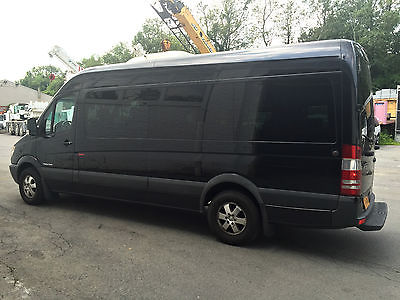 Dodge : Sprinter 2500 Passenger 2007 black dodge sprinter 15 passenger
Check out this great Sprinter Van listing!
Current Price: $16500.00 | Bid $16500.00 Now! | # of Bids: 0
End Time: 2015-09-07T12:29:11.000Z
| Located in Postal Code: 10710
2007 Dodge Sprinter 15 passenger with 102k miles. Black exterior with grey and black interior. My company sent it out to the upfitter to have additional rows of seats added. There is actually room for 16 passengers if you swap a two person row for a three person row. The a/c is ice cold in the front and rear and this sprinter is equipped with the high capacity rear a/c unit from the factory. We just had all the fluids replaced and the shuttle is fully serviced and ready to go. There are no warning lights or trouble codes at all in this sprinter. The winning bidder can drive it home and put it to work immediately. The factory warranty is expired so there is no warranty left on this shuttle. The vehicle is available for inspection Monday-Friday during normal business hours in Yonkers NY. Good luck and happy bidding.
Dodge : Sprinter 2500 Passenger 2007 black dodge sprinter 15 passenger
Check out this great Sprinter Van listing
Current Price: $16500.00 | Bid $16500.00 Now! | # of Bids: 0
End Time: 2015-09-07T12:29:11.000Z | Located in Postal Code: 10710