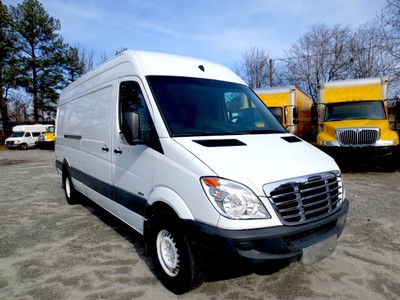 Dodge : Sprinter SPRINTER 2500 170 2007 Freightliner Sprinter 2500 170 LONG VERY WELL MAINTAINED 1 OWNER 154k MilE
Check out this great Sprinter Van listing!
Current Price: $18200.00 | Bid $0.00 Now! | # of Bids: 0
End Time: 2013-01-31T21:42:17.000Z
| Located in Postal Code: 30349
This Freightliner Sprinter 2500 is an excellent value for the money. The title records confirm that this vehicle has had only one previous owner. If you are looking for a great low mileage Sprinter 2500, you can't go wrong with this one. This vehicle has been very well maintained and a complete SERVICE HISTORY is available for it. This vehicle, like all vehicles that we offer for sale, undergoes a comprehensive and stringent MULTI-POINT INSPECTION before putting it out on our lot.
With a powerful 6 Cylinder DIESEL engine under the hood, you will have plenty of oomph to easily get up to speed when the situation calls for it. With the 6 Cylinder DIESEL engine you will get excellent fuel economy and have plenty of power for tough traffic.
Overall, the exterior is in really good shape with just a few insignificant blemishes in the finish that aren't even noticeable from a short distance. The interior is really quite clean and has no unsightly stains or rips anywhere to be found.
THERE IS A 100$ DOCUMENTATION FEE THAT WILL COVER ALL THE DOC FEES, TEMP TAG FEE
SPRINTER IS LOCATED IN COLLEGE PARK GA 5 MIN OUTSIDE OF ATLANTA AIRPORT, AND COULD BE VIEWED BY APPOINTMENT  MON THRU FRIDAY.
Dodge : Sprinter SPRINTER 2500 170 2007 Freightliner Sprinter 2500 170 LONG VERY WELL MAINTAINED 1 OWNER 154k MilE
Check out this great Sprinter Van listing
Current Price: $18200.00 | Bid $0.00 Now! | # of Bids: 0
End Time: 2013-01-31T21:42:17.000Z | Located in Postal Code: 30349