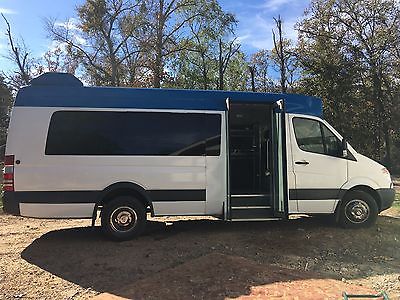 2008 Dodge Sprinter Shuttle Bus - Tall 2008 Dodge Sprinter 170" Shuttle Bus, high top, Van Dual 1 ton
Check out this great Sprinter Van listing!
Current Price: $5.00 | Bid $5.00 Now! | # of Bids: 0
End Time: 2016-11-28T20:21:05.000Z
| Located in Postal Code: 74523
This is a 2008 model Dodge Sprinter 3500 - 170" Wheel Base Shuttle Bus. It has Dual Rear Wheels. It was a shuttle bus at an airport before I bought it. I purchased this van about a year ago, and have been using it ever since, putting about 400 miles per week on it. The roof was leaking when I purchased it, but we think that we have fixed all of the leaks. The headliner does show water damage because of it. I replaced the headlights, which are very expensive. I believe I paid about $350 for aftermarket ones for it. The tires are all good, which you can see in the pictures. The glow plug light and check engine light stay on. It does always start though. Occasionally the battery light comes on and once the van is restarted it normally goes off. We replaced one of the batteries. The air bag light is also on, but I did get a notice in the mail saying that the air bags in the van are part of a recall. Not sure if this will fix the light, but it might. I live in Antlers, OK if you want to come see and drive the van. It has worked out great for me, but I live in a small town and no one locally can work on the van for me. When you drive the van, it runs, shifts out fine, etc., but once you slow down quickly it goes into "limp home mode". I am not sure what is causing it, but I haven't been able to have it repaired locally. One of the codes that it has given is a throttle position sensor, and this may be causing the problem. It may be an easy fix, or it might not be. The van can be reset by turning the ignition off and on about three times, and then it runs like it should again. The body isn't perfect on the van, but from a distance, it still looks great!The rear air conditioner works. I am not sure that it is working as well as it should as far as blowing, but the air is very cold. The front air and heat both work. The side door opens and closes as it should, but we also fastened a safety strap on it. I put a Pioneer stereo and speakers in it with remote control, and this works well. It plays MP3's, CD's, and has bluetooth capability as well. Please call or text me, Rhonda for more information - 580-271-1991. My dad has worked on the van and knows more about the mechanical information than I do. His phone number is 580-271-0854. If you use the Buy It Now option, I will deliver the van to you within 400 miles!
2008 Dodge Sprinter Shuttle Bus - Tall 2008 Dodge Sprinter 170" Shuttle Bus, high top, Van Dual 1 ton
Check out this great Sprinter Van listing
Current Price: $5.00 | Bid $5.00 Now! | # of Bids: 0
End Time: 2016-11-28T20:21:05.000Z | Located in Postal Code: 74523