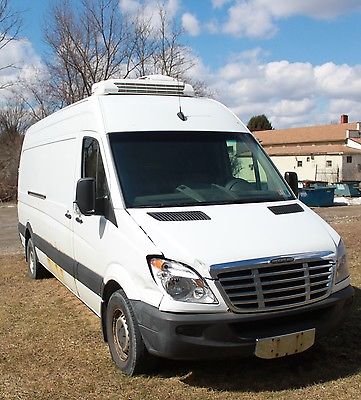 Dodge : Sprinter Base Standard Cargo 4 Door Van 2007 dodge freightliner sprinter refrigerated cargo van 4 door
Check out this great Sprinter Van listing!
Current Price: $5200.00 | Bid $5300.00 Now! | # of Bids: 2
End Time: 2015-09-13T17:42:28.000Z
| Located in Postal Code: 15767
YEAR: 2007ENGINE: DEISEL ENGINEMILES: 188,386GVW: 8550lbsVIN# WDYPE845075178075COST NEW: $59,000NOTES: Needs front headlight and body damage fixed. Refrigeration needs a part - Will work fine one you install the part. Rust spots over the entire body - needs painted. Needs Serviced: Van is in limp mode. Sprinter Vans are designed to go into "Limp Mode" when it needs serviced. When van goes into Limp Mode the van will deactivate turbo charger and as a result loses power.Previous Buyer did not follow through with purchase. PLEASE do not bid if you are not going to follow through with the purchase....THANK YOU! CHECK OUT MY OTHER E-BAY ACCOUNT - Keystone State Trading. I have over 200 transactions with 100% Feedback!
Dodge : Sprinter Base Standard Cargo 4 Door Van 2007 dodge freightliner sprinter refrigerated cargo van 4 door
Check out this great Sprinter Van listing
Current Price: $5200.00 | Bid $5300.00 Now! | # of Bids: 2
End Time: 2015-09-13T17:42:28.000Z | Located in Postal Code: 15767