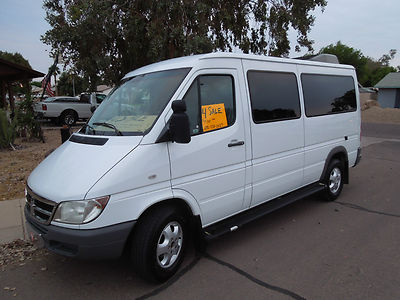 Dodge : Sprinter 2500 Bio 2006 Sprinter Van 10 Passenger van, Bio Diesel 20+
Check out this great Sprinter Van listing!
Current Price: $12000.00 | Bid $12000.00 Now! | # of Bids: 0
End Time: 2012-04-30T00:00:00.000Z
| Located in Postal Code: 85282
2006 Doge / Mercedes Sprinter Van, 10 passenger, Dual AC, Power windows and locks, AM/FM/CD, Running Boards, Alloy Wheels, New Tires, HD trailer brake control, Interior heat from motor when motor off option, Great paint, tow package, very clean.180,000 mostly highway miles. Van was used for hotel shuttle for a first few years then personal vehicle for the last 90K miles. A very small dent in the back left quarter panel (see Photo) Great condition. Runs with BIO Diesel. Van is for sale on Local Phoenix CraigsList and I reserve the right to sell privately and end the auction on ebay.I have used this van for camping, moving my ultralight aircraft, transporting my quad, motorcycles and my wife and kids to all kinds of events. With the one back seat in you can still fit a quad or motorcycle or even a Sky Cycle aircraft in the back with no problem. I have built a platform that holds a queen size bed with all our camping gear under it and had the best of times while we traveled with this van. I have gotten 17 to 25 MPG depending on what I was towing or hauling in or behind it. It pulls my 19' Airstream camper like it's not even back there. The Dual air cools the van down in no time. The AC compressors are a bit noisy but work well. The #3 glow plug will need replacing if the van is to be used in ice cold weather as the code reader displays in temps below 45 degrees. No problem in Phoenix, AZ but may be a problem where temps drop into the freezing zones. Shipping: I can drive to anywhere in the lower 48 states for fuel and a airline ticket home with expenses or you can arrange for shipping. Please write with any questions and I will answer asap. Thank you for looking and please only bid if you can pay.
Dodge : Sprinter 2500 Bio 2006 Sprinter Van 10 Passenger van, Bio Diesel 20+
Check out this great Sprinter Van listing
Current Price: $12000.00 | Bid $12000.00 Now! | # of Bids: 0
End Time: 2012-04-30T00:00:00.000Z | Located in Postal Code: 85282