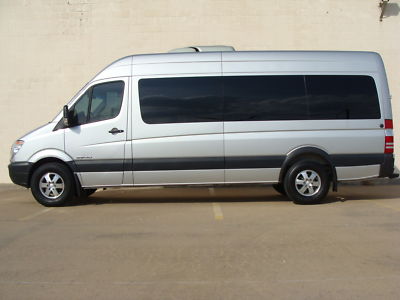 Dodge : Sprinter 170" WB 2008 DODGE SPRINTER 2500 DIESEL 9 PASSENGER
Check out this great Sprinter Van listing!
Current Price: $29600.00 | Bid $29700.00 Now! | # of Bids: 3
End Time: 2011-11-21T21:38:48.000Z
| Located in Postal Code: 75418
2008 DODGE 2500 SPRINTER DIESEL SUPER HIGH SUPER LONG 170" WHEELBASE 9 PASSENGER VAN WITH WHEEL CHAIR LOCK IN THE REAR, SILVER EXTERIOR, GRAY AND BLACK INTERIOR, POWER WINDOWS, POWER LOCKS, POWER MIRRORS, 3 PERSON, 2 PERSON, 3 PERSON SEATING WITH OVERHEAD AIR CONDITIONING, WHEELCHAIR LOCK IN REAR (DOES NOT HAVE RAMP) AM/FM/WEATHER/CD/PHONE MEDIA WITH STEERING WHEEL CONTROLS, PRIVACY GLASS ALL THE WAY AROUND, EXCELLENT FOR SHUTTLE SERVICE OR CHURCH VAN, 71K MILES, ALLOY WHEELS, OVER 6 FEET OF HEAD ROOM, EXCELLENT RUBBER, THE VAN HAS A FEW SCRATCHES ON DRIVERS FENDER(PLEASE SEE PICS) VERY HARD TO FIND VAN! PLEASE CALL KEVIN WITH QUESTIONS 903-436-5152.
Dodge : Sprinter 170" WB 2008 DODGE SPRINTER 2500 DIESEL 9 PASSENGER
Check out this great Sprinter Van listing
Current Price: $29600.00 | Bid $29700.00 Now! | # of Bids: 3
End Time: 2011-11-21T21:38:48.000Z | Located in Postal Code: 75418