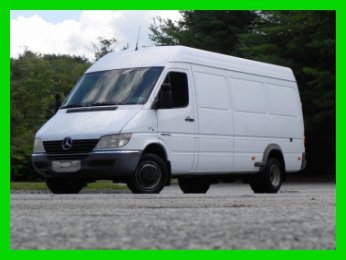 Dodge : Sprinter HIGH CEILING 2004 Dodge Sprinter 3500 SHC High Top 158" Extended WB, Mercedes DIESEL SERVICED
Check out this great Sprinter Van listing!
Current Price: $19900.00 | Bid $0.00 Now! | # of Bids: 0

End Time: 2012-09-04T01:21:19.000Z
| Located in Postal Code: 02190
Listing by Auction123.com copyright Auction123, Inc.
Worldwide Preowned LLC - 185 Liberty St Weymouth, MA 02190 - 781-335-00482004 Dodge Sprinter Van 3500 158 in. DRW HighCALL KYLE @ 781-335-0048
Click here for an XL view of the above Image
PrevNext
1
2
3
4
5
6
7
8
9
10
11
12
13
14
15
16
17
18
19
20
21
22
23
24
25
26
27
28
29
30
31
32
33
34
35
36
37
38
39
40
41
42
43
44
45
46
47
48
49
50
51
52
53
54
55
56
57
58
59
60
61
62
63
64
65
66
67
68
69
70
71
72
73
74
75
76
77
78
79
80
81
82
83
84
85
86
87
88
89
90
91
92
93
94
95
96
97

DescriptionOptions2 Additional KeysAuxiliary Front Heating GroupCloth Bucket SeatsComfort Seating GroupHeated Driver SeatHeated Windshield w/Rain SensorMonotone Paint ApplicationPower Convenience GroupPower LocksPower WindowsRadio: AM/FM Compact DiscRear InsulationSpeed ControlDriveTrainTransmission: 5-Speed AutomaticDrive Train Type: RWDDriven Wheels: Rear-WheelWheels Rims: SteelWheels Spare Rim Type: SteelRoof and GlassFront Wipers: Variable IntermittentConvenienceSteering Power: Hydraulic Power-AssistCupholdersDoor PocketsPower Outlets: 2SafetyDriver and Passenger AirbagABS: 4-WheelBrakes: 4 Wheel DiscTraction Control: ABS And DrivelineHeadlights: HalogenTurning Circle: 46.90Door ReinforcementFront Headrests: AdjustableSeatbelt: Front Height AdjustableTraction ControlBasic InformationVIN Number: WD2PD544045635207Model Year: 2004Make: DodgeModel: Sprinter Van 3500Style Name: Cargo 158 In. WB DRW High RoofVehicle Trim: High RoofBody Type: VanVehicle Type: VanExterior Color: Arctic WhiteInterior Color: GraySuspensionIndependent Suspension: Independent FrontStabilizer Bar: RearIn Car EntertainmentAudio System: AM/FM StereoSpeakers: 2Antenna Type: FixedComfortAir Conditioning: AutomaticTrunk LightsShift Knob: Plastic/RubberSteering Wheel Trim: Plastic/VinylDoorsRear Door Type: Split Swing-OutSide Door Type: Sliding Rear PassengerEngineEngine Description: 2.7L I5Fuel Type: DieselCam Type: Dual Overhead CamFuel Induction: Direct Diesel InjectionValves Per Cylinder: 4Aspiration: TurbochargedCompressor: Intercooled TurboCompression Ratio: 18.0:1InstrumentationClockExternal TempLow Fuel LevelTachometerSeatsSeating Capacity: 2Front Seat Type: BucketUpholstery: ClothFeaturesAux Transmission Cooler: RegularVinyl Floor Covering: Vinyl/RubberBumpers: ArgentDoor ReinforcementDimensionsLuggage Capacity: 473.00 Cubic FeetMaximum Seating: 2Length: 263.00 InchesWidth: 78.30 InchesHeight: 103.00 InchesWeight: PoundsWheelbase: 158.00 InchesGround Clearance: 6.80 InchesMax Gross Vehicle Weight: 9990.00 PoundsCurb Weight: 5113.00 PoundsGross Vehicle Weight Rating: 9990About

** For a BUY IT NOW call Kyle at 1-781-335-0048 or email STC0629@AOL.COM **
** Best Offer * * Buy It Now * * Best Offer **
2004 Dodge Sprinter 3500 SHC Super High Ceiling Extended 158" Wheel Base Cargo Van - Diesel
** Mercedes Powered, Mercedes Quality - rare 158" 3500 Dually ** Just Serviced including tires, brakes, oil change, fuel filter & more. Up for our next BEST OFFER auction is a very clean 2004 Dodge Sprinter 3500 1-Ton Super High Ceiling "SHC" Extended 158" Wheel Base Cargo Van. Powered by the Inline 2.7L Mercedes Diesel making an impressive 156 HP & 243 Ft/Lbs of Torque that really moves this Sprinter and runs amazing! In addition to plenty of power & great fuel economy - these sprinters are built and powered by Mercedes and are known to go for hundreds of thousands of miles.
Finished in Artic white over a gray interior that has the upgraded interior including HEATED drivers seat, HEATED windshield, power windows, power locks, power mirrors, Traction Control, Cruise Control, CD AM/FM Stereo system, 5 speed automatic transmission, Ice Cold A/C and much more. Exterior of this Sprinter is in great shape with the paint holding a deep and glossy finish, the white paint really glows! A few small marks you would associate with the year but overall in wellabove average condition. Interior is also very clean with no smoking odors, rips or tears - we have never had a sprinter in with heated seat & heated windshield as well as the rest of the power options. Rear of the truck is insulated & comes with Carrier Transicold gauges as it previously had a rear chiller / A/C unit on it (unit NOT included). Rear ceiling also has recessed lighting flushed into the ceiling that really lights up the cargo area great.
JUST SERVICED! Has been fully though the shop with SIX brand new tires, new brakes, oil & filter just changed, new fuel filter, saftey check and more - turn the key & drive. Simply a pleasure to drive - the 2.7L CRD Mercedes Diesel provides huge power and is REALLY responsive. I was more than impressed at how powerfull this Sprinter feels while driving it, the Diesel torque is second to none. No check engine lights or service reminders, 5 Speed Automatic Transmission shifts perfect - truck just does everything right. Tight, responsive and exceptionally smooth - one of the nicest Sprinters we have had in. Local to us? Take a ride down to see / drive this Sprinter for yourself, it will not disappoint! Give the office a call with any questions at 1-781-335-0048 - Thank You.** For a BUY IT NOW call Kyle at 1-781-335-0048 or email STC0629@AOL.COM **We are Worldwide Preowned LLC, A Large Internet Wholesale Company Located In Weymouth, Massachusetts
We reserve the right to stop any Auction If the Vehicle should be sold prior The Ending Date.First Time Buyers? We welcome all new members and encourage you to call us with all of your concerns on Shipping, Payments and Bidding. Our friends in Canada we work direct with your choice of Border crossings to make you purchase and delivery as simple and pleasant one!
All vehicles have a $195.00 administrative fee that includes your overnight UPS service, airport pick-up and oil / filter service.
This is a no Reserve Auction ! These are all trade cars ! We Visually check them, drive them and describe them the best to our ability! They have not been Certified…We have no idea about Brake wear, front end parts or previous Service History. We are a Licensed/Bonded Ma dealer doing Business in this state for over 25 years. These cars all sell for Thousands below Retail market prices saving the Buyer Giant Money...........Get more for your money on E Bay !
MASSACHUSETTS DOES NOT OFFER TEMP TAGS
Need Shipping Quotes?Call our Friends at DWO AUTO TRANSPORT SERVICES
Tell them we had you call for their best rate!!Please call DAN O'BRIEN direct atphone- 954 648 3677fax- 781 658 2322
Email at dwoautotrasportservices@yahoo.com
Directions
Terms
Worldwide Preowned LLC185 Liberty StWeymouth, Massachusetts 02190Click for Driving DirectionsAsk For:Kyle 781-335-0048:781-335-0048 Email:
Email SellerPlacing a Bid: Your bid constitutes a legally binding contract to purchase this vehicle. Please do not bid if you're not seriously interested or financially able to purchase this vehicle. Please read eBay's User Agreement Worldwide Preowned LLC reserves the right to, Obtain and verify the registered information of all users who bid on this auction. Cancel any and all bids at our discretion, or end the auction early if necessary. Bidders Age: You must be 18 years of age or older to Bid. Special eBay Bid Retraction Rules: Please read eBay's "Retracting a Bid" If you place a bid before the last 12-hour period of the auction: You may retract that bid before that last 12-hour period but only for exceptional circumstances. You will not be allowed to retract that bid during the last 12-hour period of the auction. If you place a bid during the last 12-hour period of the auction: You will be allowed to retract the bid for exceptional circumstances but only if you do so within one hour after placing the bid.Funds & Financing: For help in arranging for a Pre-Approved loan or for any questions please
e-mail or phone Kyle at781-335-0048 prior to bidding. Buyers Inspection: Worldwide Preowned LLC has done our best to disclose all information known about this vehicle for auction. Worldwide Preowned LLC welcomes a buyers inspection. If you plan to have a buyers inspection, please make sure you inspect the vehicle prior to the auction ending. Inspection fees if any are Buyers responsibility. Representations and Warranties made by seller: This vehicle is being sold "as is". Manufacturers warranties may still apply. Extended warranty may be available,
e-mail or phone Kyle at 781-335-0048 for details. No representations or warranties are made by seller, nor are any representations or warranties relied upon by bidders in making bids. Taxes and Registration fees: Out of state buyers are responsible for all state, county, city taxes and fees, as well as title service fees in the state that the vehicle will be registered. All taxes and fees must be paid in full in order for vehicle to be titled and registered. Title Information: Vehicles titles may be held by banks or lenders as collateral for loans. In many cases there is a delay in receiving the original instruments up to 21 days from the time we pay a vehicle off. While we usually have all titles in our possession at closing, there are occasions where we may be waiting for them to arrive. If payment is made by cashier's or personal checks we will hold all titles for 10 days or until funds have cleared. Shipping & Delivery: All shipping charges are buyer's responsibility. Worldwide Preowned LLC will help with shipping arrangements but will not be responsible in any way for claims arising from shipping damage! Licensed Carriers are generally insured for $3,000,000.00. We assume no responsibility for damages incurred after the vehicle leaves our showroom. All shipping arrangements are provided by Worldwide Preowned LLC as a courtesy. We are not affiliated with any carrier. Any claims or other communication regarding shipment of vehicles will be between you and the shipper, not with Worldwide Preowned LLC. The amount of time it takes for delivery is dependent on the carrier, but is generally 7-14 days from the date the vehicle is picked up from our facility until it is delivered to your destination. Verify with the shipper for an Estimate Time of Arrival to be sure. Finalizing your Purchase: Worldwide Preowned LLC will contact the successful high bidder by e-mail after the auction closes. Successful high bidder MUST communicate with Kyle at Worldwide Preowned LLC by
e-mail or phone781-335-0048 within 24 hours of the auction ending to make arrangements to complete their transaction. If we cannot confirm your intention to buy or the sale is not completed within 5 days, we reserve the right to relist this vehicle or sell to any other qualified buyer. In order to secure bid on vehicle, Successful bidder (BUYER) must within 24 hours of bid closing send to Seller a Deposit in the amount of 10% by major credit card, cash in person or bank certified funds. Within 72 hours of bid closing, Buyer must send balance of funds by bank wire transfer, cash in person, bank certified funds to Seller. At time of sending initial deposit, Buyer MUST fax copy of their State issued valid Driver Licence. Furthermore, before said vehicle is released for shipment to Buyer, all other Sale related and title related paperwork must be signed and returned complete to Seller.Auction123, Inc. (a service and listing/software company) and the Seller has done his/her best to disclose the
equipment/condition of this vehicle/purchase. However, Auction123.com disclaims any warranty as to the accuracy or to the working condition of the vehicle/equipment listed. The purchaser or prospective purchaser should verify with the Seller the accuracy of all the information listed within this ad. Contact
Welcome to Worldwide Preowned LLC. My name is Kyle Byron and I am the Senior Sales Consultant. All of our vehicles have BUY IT NOW figures, and some have Reserve Pricing. If you are interested in doing a BUY IT NOW purchase please call me direct at 1-781-335-0048 M-F 9:00am until 6pm EST or simply email me at STC0629@AOL.COM If there is a certian vehicle your looking for we probably have it! I stock over 100 Preowned Trucks - some big, some small and everything inbetween. 1-781-335-0048Worldwide Preowned LLC185 Liberty StWeymouth, Massachusetts 02190 Ask for: Kyle 781-335-0048: 781-335-0048Email:
Email Seller
Email Seller
Email to Friend
Complete and submit the form below to send a message to our dedicated sales team.* First Name:* Last Name:* Email:* Phone: Ext. Preferred Method:PhoneEmailMessage:Complete and submit the form below to send a link and your message to a friend.First Name:Last Name:* Your email:* Friend's email:We won't use this information for promotional purposes or disclose it to a third party.Message:
Copyright © 2012 Auction123, Inc. - All Rights Reserved. Selling a Vehicle? Create Professional Listings Fast and Easy. Click Here!Image Hosting and Counters by: Auction123.com
Dodge : Sprinter HIGH CEILING 2004 Dodge Sprinter 3500 SHC High Top 158" Extended WB, Mercedes DIESEL SERVICED
Check out this great Sprinter Van listing
Current Price: $19900.00 | Bid $0.00 Now! | # of Bids: 0

End Time: 2012-09-04T01:21:19.000Z | Located in Postal Code: 02190