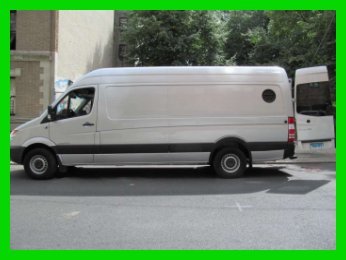 Dodge : Sprinter HIGH Van 2008 Dodoge Sprinter VAN TURBO DIESEL Extended with High Roof
Check out this great Sprinter Van listing!
Current Price: $40000.00 | Bid $0.00 Now! | # of Bids: 0

End Time: 2012-10-20T17:17:45.000Z
| Located in Postal Code: 10021
Listing by Auction123.com copyright Auction123, Inc.
DescriptionBasic InformationVIN Number: WD0PE845X85261775Stock Number: c731009Model Year: 2008Make: DodgeModel: Sprinter Van 2500Style Name: Extended Cargo 170 In. WB High RoofVehicle Trim: High RoofBody Type: VanVehicle Type: VanExterior Color: Brilliant Silver MetallicInterior Color: GraySuspensionIndependent Suspension: Independent FrontStabilizer Bar: FrontIn Car EntertainmentAudio System: AM/FM StereoMultimedia CD Location: Single In-Dash MountedSpeakers: 5Antenna Type: Integrated RoofComfortAir Conditioning: AutomaticAir FiltrationTrunk LightsDash Trim: Metal-LookRearview Mirror: Day-NightShift Knob: Plastic/RubberSteering Wheel Trim: Plastic/VinylDoorsRear Door Type: Split Swing-OutSide Door Type: Sliding Rear PassengerEngineEngine Description: 3.0L V6Fuel Type: DieselCam Type: Dual Overhead CamFuel Induction: Direct Diesel InjectionValves Per Cylinder: 4Aspiration: TurbochargedCompressor: Intercooled TurboCompression Ratio: 18.0:1InstrumentationClockExternal TempLow Fuel LevelTachometerSeatsSeating Capacity: 2Front Seat Type: BucketUpholstery: ClothFeaturesVinyl Floor Covering: Vinyl/RubberBumpers: ArgentDoor ReinforcementDimensionsLuggage Capacity: 547.00 Cubic FeetMaximum Seating: 5Length: 289.20 InchesWidth: 79.70 InchesHeight: 107.50 InchesWeight: PoundsWheelbase: 170.30 InchesMax Gross Vehicle Weight: 8550.00 PoundsCurb Weight: 5395.00 PoundsGross Vehicle Weight Rating: 8550DriveTrainTransmission: 5-Speed AutomaticDrive Train Type: RWDDriven Wheels: Rear-WheelWheels Rims: SteelWheels Spare Rim Type: SteelRoof and GlassFront Wipers: Fixed IntervalConvenienceWindows: PowerSteering Power: Hydraulic Power-AssistSteering Adjustment: Manual Tilting And TelescopingPower Door Locks: Power With 2 Stage UnlockCupholdersDoor PocketsOverhead Console: FullPower Outlets: 2SafetyDriver and Passenger AirbagABS: 4-WheelBrakes: 4 Wheel DiscBrake AssistStability ControlTraction Control: ABS And DrivelineHeadlights: HalogenEngine ImmobilizerTurning Circle: 54.60Door ReinforcementFront Headrests: AdjustableSeatbelt: Front Height AdjustableStability ControlTraction ControlGeneral
Terms
2008 Dodoge Sprinter 3.5L V6 DOHC 24VF1 Diesel Engine (Long Version with High Roof) Van. Over $15,000.00 In Non-Factory Parts Installed!Factory Optional Equipment Include AM/FM/CD Charger Audio System, Automatic On/Off Headlights, Power Windows and Locks, 16" Wheels, Rear Parking Sensors, Power Exterior Mirrors, Cruise Control, Single Velour Seat (Never Installed Or Used). Passenger Parkway Package Including Side Round Windows, Rear Door Glass (All Tinted).After Market Options Include: Rear Undercarriage Gas Generator With Separate Driver Side Fuel Cell (Less Than 3 Hours Total Use), Rear A/C And Heat System With Separate Circuit Breaker, Second Rear View Split Screen Color Mirror With Side Video Cameras, Stealth Tracking System, iPod Cable, Laptop Removable Pivot Shelf (Installed Between Front Seats) Pre0wired For Inverter, Morel Tempo 6.5" 2 Way Speakers, iPod Cable, A/V Cables For LCD Display, Rear A/C /Heater Unit, Cushion Headliner, Two Passenger Double Flip Bench.May Be Perfect Form Any Uses, Including But Not Limited To: Mobile Lab/Office, Repair Van, Cargo Van, Electrician, Plumbing Or Carpentry (Perfect For Power Tools). Exterior May Be Modified Fir Food Vending Truck (Perfect For Refrigeration, Cooking Grill, Etc.) Dodge Sprinter 2500 Features:Vinyl InteriorKey-less EntryBack Up CameraPower WindowsPower LocksA/C Climate ControlCruise ControlAnti-lock BrakesDriver / Passenger / Side AirbagsSingle CD AM/FM RadioRear Generator Fuel Cell Rear A/C & Heating SystemCircuit Breaker 4 OutletsSide CameraAuxiliary Port Laptop ShelfInverterStealth Tracking System6.5" SpeakersCustom Headliner2 Passenger Bench SeatJump SeatGarage Kept, Non Smoker Listed by National Vehicle Marketing, eBay's largest seller of privately owned vehicles like this one located in New York, New York. Please call 1-855-578-1536 and mention listing id: 112984.
Placing a Bid: Please read eBay's User Agreement
National Vehicle Marketing LLC reserves the right to,
Obtain and verify the registered information of all users who bid on this auction.
Cancel any and all bids at our discretion, or end the auction early if necessary.
Bidders Age: You must be 18 years of age or older to Bid.
Special eBay Bid Retraction Rules: Please read eBay's "Retracting a Bid"
If you place a bid before the last 12-hour period of the auction:
You may retract that bid before that last 12-hour period but only for exceptional circumstances. You will not be allowed to retract that bid during the last 12-hour period of the auction.
If you place a bid during the last 12-hour period of the auction:
You will be allowed to retract the bid for exceptional circumstances but only if you do so within one hour after placing the bid.
Funds & Financing:
For help in arranging for a Pre-Approved loan or for any questions please

e-mail or phone Customer Care at855-578-1538 x0 prior to bidding.
Buyers Inspection: National Vehicle Marketing LLC has done our best to disclose all information known about this vehicle for auction. National Vehicle Marketing LLC welcomes a buyers inspection. If you plan to have a buyers inspection, please make sure you inspect the vehicle prior to the auction ending. Inspection fees if any are Buyers responsibility.
Representations and Warranties made by seller: This vehicle is being sold "as is". Manufacturers warranties may still apply. Extended warranty may be available,

e-mail or phone Customer Care at 855-578-1538 x0 for details. No representations or warranties are made by seller, nor are any representations or warranties relied upon by bidders in making bids.
Taxes and Registration fees: Out of state buyers are responsible for all state, county, city taxes and fees, as well as title service fees in the state that the vehicle will be registered. All taxes and fees must be paid in full in order for vehicle to be titled and registered.
Title Information: Vehicles titles may be held by banks or lenders as collateral for loans. In many cases there is a delay in receiving the original instruments up to 21 days from the time we pay a vehicle off. While we usually have all titles in our possession at closing, there are occasions where we may be waiting for them to arrive. If payment is made by cashier's or personal checks we will hold all titles for 10 days or until funds have cleared.
Shipping & Delivery:
All shipping charges are buyer's responsibility. National Vehicle Marketing LLC will help with shipping arrangements but will not be responsible in any way for claims arising from shipping damage!
Licensed Carriers are generally insured for $3,000,000.00. We assume no responsibility for damages incurred after the vehicle leaves our showroom. All shipping arrangements are provided by National Vehicle Marketing LLC as a courtesy. We are not affiliated with any carrier. Any claims or other communication regarding shipment of vehicles will be between you and the shipper, not with National Vehicle Marketing LLC.
The amount of time it takes for delivery is dependent on the carrier, but is generally 7-14 days from the date the vehicle is picked up from our facility until it is delivered to your destination. Verify with the shipper for an Estimate Time of Arrival to be sure.
Finalizing your Purchase:
National Vehicle Marketing LLC will contact the successful high bidder by e-mail after the auction closes.
Successful high bidder MUST communicate with Customer Care at National Vehicle Marketing LLC by

e-mail or phone855-578-1538 x0 within 24 hours of the auction ending to make arrangements to complete their transaction. If we cannot confirm your intention to buy or the sale is not completed within 5 days, we reserve the right to relist this vehicle or sell to any other qualified buyer.
In order to secure bid on vehicle, Successful bidder (BUYER) must within 24 hours of bid closing send to Seller a Deposit of cash in person or bank certified funds. Within 72 hours of bid closing, Buyer must send balance of funds by bank wire transfer, cash in person, bank certified funds to Seller.
National Vehicle Marketing is marketing this vehicle for a private seller. We make every attempt to represent vehicles accurately, and strongly recommend a vehicle inspection prior to bidding and/or agreeing to purchase any vehicle on the internet. We cannot be held responsible for inaccuracies in the presentation and description of the vehicles we are marketing for private sellers. Please address all of your questions or concerns regarding this vehicle before you place a bid.Auction123, Inc. (a service and listing/software company) and the Seller has done his/her best to disclose the
equipment/condition of this vehicle/purchase. However, Auction123.com disclaims any warranty as to the accuracy or to the working condition of the vehicle/equipment listed. The purchaser or prospective purchaser should verify with the Seller the accuracy of all the information listed within this ad.2008 Dodge Sprinter Van 2500 170 in.PERFECT FOR MANY USES
Click here for an XL view of the above Image
PrevNext
1
2
3
4
5
6
7
8
9

Contact
National Vehicle Marketing Customer Care Team is here to help. To inquire on this vehicle, list a vehicle of your own or receive additional information including financing and transportation PLEASE CALL 855-578-1536 x0 or email support@classyauto.com. Ask for: Customer Care Customer Care: 855-578-1536 ext: 0Email:
Email Seller
Email Seller
Email to Friend
Complete and submit the form below to send a message to our dedicated sales team.* First Name:* Last Name:* Email:* Phone: Ext. Preferred Method:PhoneEmailMessage:Complete and submit the form below to send a link and your message to a friend.First Name:Last Name:* Your email:* Friend's email:We won't use this information for promotional purposes or disclose it to a third party.Message:
Dodge : Sprinter HIGH Van 2008 Dodoge Sprinter VAN TURBO DIESEL Extended with High Roof
Check out this great Sprinter Van listing
Current Price: $40000.00 | Bid $0.00 Now! | # of Bids: 0

End Time: 2012-10-20T17:17:45.000Z | Located in Postal Code: 10021