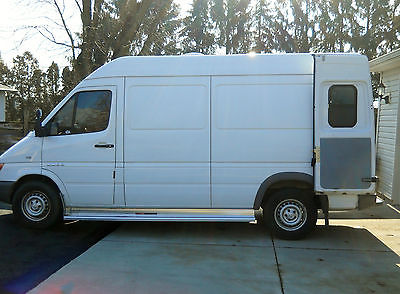 Dodge : Sprinter 2500 140 WB HIGH TOP DODGE SPRINTER 2006, 140"WB, HIGHTOP, LOW MILES, 29 TO 31 MPG, UTILITY OR TRAVEL
Check out this great Sprinter Van listing!
Current Price: $16000.00 | Bid $16000.00 Now! | # of Bids: 0
End Time: 2015-02-12T14:36:25.000Z
| Located in Postal Code: 44662
2006 MERCEDES ( DODGE SPRINTER ) 2500
130 K MILES (low miles)
CRUISE CONTROL
POWER WINDOWS
MINT CONDITION ( ROCK CHIPS A FEW REPAIRABLE SURFACE RUST MARKS)
BACK-UP BUZZER
BARN DOORS (EASY LOADING)
TIRES 25% (MICHELIN)
JUST HAD OIL CHANGE (MOBILE FULL SYNTHETIC
I'VE GOT 31 MPG WITH IT, 700+ miles range per tank
RUNS EXCELLENT LIKE NEW
NEW WINTER STYLE WIPERS
WINDOWS IN BACK (SLIDERS) AND SIDE DOOR
140" WHEEL BASE, HIGH TOP, WALK INSIDE
FINISHED INSULATED SOUND PROOFED
CLEAR READY-TO-GO TITLE
RUNNING BOARDS ( A MUST )
PROFESSIONALLY TINTED DRIVER & PASS. WINDOWS
FANTASTIC FAN W/ RAIN SENSOR AND REMOTE control
CD RADIO
REMOTE MIRRORS W/ PARABOLIC MIRROR
HITCH
KONI SHOCK RED FOR A BETER RIDE AND HANDLING
MERCEDES BADGING
GREAT UTILITY TRUCK FOR THE TRADES,MOVING, TRAVEL
QUESTIONS EMAIL OR CALL 330.832.8665
VAN WITH ABOVE ONLY

TRAVEL GROUP CAN BE INSTALLED IN 15 MINUTES
2 AMISH MADE MATTRESS, WITH PEDESTALS
COLEMAN HOTWATER HEATER FOR WASHING AND BATHING
WASH BASIN, 7 GALLON WATER STORAGE
1200 WATT INVERTER W/ WIRING
REF/FREZER BLACK-OUT WINDOW COVERS VELCRO
STORAGE AREAS.
799.00 TRAVEL PACKAGE ONLY

Dodge : Sprinter 2500 140 WB HIGH TOP DODGE SPRINTER 2006, 140"WB, HIGHTOP, LOW MILES, 29 TO 31 MPG, UTILITY OR TRAVEL
Check out this great Sprinter Van listing
Current Price: $16000.00 | Bid $16000.00 Now! | # of Bids: 0
End Time: 2015-02-12T14:36:25.000Z | Located in Postal Code: 44662