World's Largest eBay Motors Dealer Over $3 Billion Sold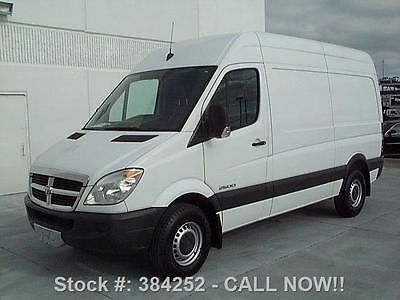 Dodge : Sprinter HIGHTOP ROOF 2009 dodge sprinter 2500 144 wb cargo van diesel 25 k mi 384252 texas direct
Check out this great Sprinter Van listing!
Current Price: $27980.00 | Bid $0.00 Now! | # of Bids: 0
End Time: 2015-01-13T17:30:00.000Z
| Located in Postal Code: 77477
Condition Guarantee by Seller
2009 Dodge Sprinter 2500 Cargo Van Diesel - Hightop Roof - Ready to Work!!  25K Miles!!
2009 Dodge Sprinter 2500 144 WB 3dr Cargo Van (3.0L 6cyl ) with Arctic White Exterior, Black Interior.  Loaded with 3.0L Turbo Diesel V6 Engine, Automatic Transmission, Cloth Seats, Air Conditioning, Power Windows, Power Door Locks, Keyless Entry, High Top Roof, 16 Inch Wheels and more.Want to know more about this Sprinter, no problem, give me a call and we can talk about how to get a deal goingVIN WD0PE745795384252 / STOCK # (384252)
Save and simplify when you finance with us.  Apply Today!
Find out why 1000's of customers sell us their cars every month. Sell Us Your Car!!
Yes, it's true! We pioneered the industry's first buyback program.  Learn More!
Quality matters, this unit is certified pre-owned.  Details Here!
We provide a Free Autocheck on every car we sell.  View Now!
ABOUT TEXAS DIRECT
Who is Texas Direct Auto? Buy with confidence - with over $500 Million in annual sales, Texas Direct Auto is the largest eBay Motors Dealership in the world. In fact, we wrote the book on how to succeed in this industry. We operate out of a highly automated 400,000 sqft One of a Kind Used Car Factory, on 40 Acres near Houston, Texas, and stock over $50M worth of inventory at all times. We list select units on eBay that meet or beat our customer's high standards.   Don't settle on less than the best with your vehicle purchase.  New inventory is added daily to our eBay Store.  Our typical eBay offered automobile is a one owner or off-lease, late model, with good mileage.  
REFERENCE THE FOLLOWING WHEN CALLING:VEHICLE STOCK NUMBER : 384252 CONTACT :
@
OR EMAIL
VEHICLE STOCK NUMBER : 384252 CONTACT :
@
OR EMAIL
VEHICLE STOCK NUMBER : 384252 CONTACT :
@
OR EMAIL
VEHICLE STOCK NUMBER : 384252 CONTACT :
@
OR EMAIL
VEHICLE STOCK NUMBER : 384252 CONTACT :
@
OR EMAIL
All that's missing is you in the drivers seat, call us now and lets deal on this great Dodge
We welcome pre-buy inspection of all units. We are located in Stafford, Texas, a suburb just southwest of Houston.
Vehicle Condition
As above, please keep in mind that no used vehicle is perfect, expect some normal cosmetic and mechanical wear.
Terms of Sale
As above, winning bidder MUST make $500 eBay deposit within 24 hours or risk a no-sale default.
Dodge : Sprinter HIGHTOP ROOF 2009 dodge sprinter 2500 144 wb cargo van diesel 25 k mi 384252 texas direct
Check out this great Sprinter Van listing
Current Price: $27980.00 | Bid $0.00 Now! | # of Bids: 0
End Time: 2015-01-13T17:30:00.000Z | Located in Postal Code: 77477