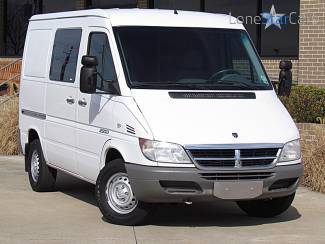 Dodge : Sprinter 2500 2006 Dodge Sprinter Low Miles Clean Carfax
Check out this great Sprinter Van listing!
Current Price: $19950.00 | Bid $0.00 Now! | # of Bids: 0
End Time: 2013-02-12T16:12:59.000Z
| Located in Postal Code: 75093

Best Offer Available2006 Dodge Sprinter Top Line InformationYear:2006VIN:WD0PD144365928782Make:DodgeModel/Trim:Sprinter Condition:Pre-OwnedBody:Minivan/VanExterior:WhiteEngine:2.7L I5 MERCEDES TURBO DIESEL ENGINEInterior:Gray ClothTransmission:5-SPEED AUTOMATIC TRANSMISSIONMileage:68,685Drivetrain:Rear Wheel Drive

Additional Photos* * * Click Photos to Enlarge * * *
* * * Click Photos to Enlarge * * *

Contact Sales DepartmentToll Free: 1-800-437-6960Phone: 972-612-2323Alt: 972-612-2323DescriptionCLEAN CARFAX * MERCEDES DIESEL * HIGH ROOF *
We are proud to offer this 2006 Dodge Sprinter. The Dodge Sprinter has become a favorite in the cargo van market. It is for several reasons. The Sprinter has a tall roof that allows for you to stand up in the back. It has a Mercedes diesel engine which is well known for its longevity and reliability. Also, the MPG is better than the other vans on the market. If you need a cargo van, the sprinter is the way to go.
This one comes to us from Louisiana where it was traded in. It is work ready and performs as it should. This van has a clean carfax report, showing no signs of any prior accidents. If you have any questions, please feel free to call or email. Thank you for your interest.
Lone Star Cars has established a rich legacy of offering to you our highest quality of used cars in Plano, Tx. With this in mind Lone Star is proud to offer these vehicles at tremendous savings. Good luck and congratulations on your purchase! Please call 800-437-6960 or email us with any questions seven days per week. We welcome third party inspections. Thank you for visiting Lone Star Cars.

*Privacy Protected*
At Lone Star we can give same day approvals in a matter of minutes.
Call and speak to one of our agents today(972)612-2323
At Lone Star Cars we understand that buying a vehicle you have not seen, and from a dealer you have not met requires a leap of faith. This is why we make every effort to accurately and fairly describe our vehicles to our customers. We will be happy to walk around the car for you explaining every detail on a cell phone if you like. However, with all pre-owned vehicles, the condition is subjective. Any errors are unintentional and at best should be very minor. They may have small dings, small scratches, and minor inperfections. The interior may also be worn due to corresponding miles on the vehicle. Please be advised that you should expect a certain amount of wear and flaws that you would not expect from purchasing a new vehicle. These are Pre-owned vehicles and at times, they may come without accessories such as extra keys, cd magazines, navigation discs, floormats, tools, owners manuals, etc.. (Please call for actual miles as they are driven daily). Please read our descriptions and view all the pictures carefully to ensure that you are knowledgeable about the vehicle before buying. Thank You.
Installed Options[EX8] 2.7L I5 MERCEDES TURBO DIESEL ENGINE(STD)[DGZ] 5-SPEED AUTOMATIC TRANSMISSION(STD)[NAS] 50 STATE EMISSIONS Included Standard EquipmentInterior4-spoke steering wheelCigar lighterCupholder in instrument panelFront ashtrayInstrumentation-inc: tachometer, outside temp gaugeLighting-inc: front dome lamp, cargo compartment side lampsPassenger seat storage binRubber front floor coveringWarning lights-inc: headlamps on, driver seat beltExteriorFront/rear mud flapsGray front/rear fasciaHalogen headlampsManual exterior mirrorsRear hinged doorSafety4-wheel anti-lock brakesDriver/front passenger airbagsFire extinguisher prepTraction controlWarning triangle bracketMechanical100 amp battery118" wheel base15" x 6" steel wheels26 gallon fuel tank3.72 axle ratio4-wheel anti-lock brakes4-wheel hydraulic disc brakes90 amp alternatorAuxiliary trans oil coolerElectronic stability programExtended exhaust pipeFront/rear stabilizer barsPwr rack & pinion steeringRear wheel driveTool kit w/hydraulic jackTraction controlUnderslung tire carrier w/full size spare tire/steel wheelWheelsSteel wheels Hours of OperationMon: Tue: Wed: Thu: Fri: Sat: Sun: 9a - 6p9a - 6p9a - 6p9a - 6p9a - 6p9a - 6pClosed Vehicle Values

Travel
Vehicle History

Insurance
Inspections

Warranty

Lone Star Cars is proud to offer warranty solutions from NAC. Click the logo above for more information on the warranty solutions we offer.
Financing

Let us help you finance your next vehicle. Begin by clicking the credit application button, print, and fax us your completed application.Our finance team will work to get you the best financing options available.

Lone Star Cars has financing available!
Get started by filling out our online credit application above or give us a call at 800-437-6960.
TermsPayment Types:Cash-In-Person, Bank Wire Transfer, Certified Check, or Third Party Financing. All funds must be in US dollars only.Fees:Out of State BuyersOut of state buyers are not required to pay, tax, title, or license in the state of Texas. However,the customer is responsible for registration and fees for the vehicle in their home state.Taxes and FeesAll vehicle sales will be required to pay a $50 documentation fee and a $150 administration fee in addition to the purchase price.All vehicles are subject to the Texas Vehicle Inventory Tax (VIT). It is based on .219. of the purchase price of the vehicle. EX: $10,000 x .0019 = $21.90 / TOTAL $10,021.90.Winning bidders must submit a $1,000 deposit within 1 business day of the close of the auction to secure the vehicle. The remaining balance (including fees and taxes) will be due within 5 calendar days within the close of the auction. All financial transaction must be complete before delivery of the vehicle. We reserve the right to re-list or sell the vehicle in the event of a non-paying bidder.Title InformationLone Star Cars is a licensed and bonded dealer in the State of Texas and guarantee a clean title on all our vehicles. In Texas, most titles are held as collateral with the lein holder. Therefore in some cases the title may not be present at the time of delivery. While we usually have all titles in our possession, there are occasions when we may be waiting for them to arrive.Titles will be sent to our buyers via overnight delivery for proper tracking. Thank you for your patience and understanding. All vehicles that we auction have a clean and clear title (no salvage, flood, or reconditioned titles).Terms:Auction PoliciesCustomers with zero or negative feedback on eBay Motors please contact us prior to bidding. Otherwise, we reserve the right to cancel your bid. Understand this is only to protect the integrity of the auction.Buyer PickupA representative from our dealership can be available for pickup at area airports when necessary. Buyers must schedule pickup prior to making travel arrangements.Notice to BuyersLone Star Cars reserves the right to cancel bids and end an auction early in the event a vehicle is no longer available for sale.Governing Law; VenueThese Terms and Conditions will be construed in accordance with and governed exclusively by the laws of the State of Texas applicable to Terms and Conditions made among Texas residents and to be performed wholly within such jurisdiction, regardless of such parties actual domiciles. For purposes of these Terms and Conditions both parties submit to personal jurisdiction in Dallas County, Texas and further agree that any cause of action arising under these Terms and Conditions will be brought exclusively in a Dallas County, Texas court. Transport

At LSC Transportation we have a dedicated fleet of rigs to move vehicles anywhere in the continental United States! Local, regional, or national our team can relocate your vehicle to the chosen destination safely and securely. Whether it is family autos, classics, dealer inventory, or fleet relocation, we have a service to accomodate just about any need. Click the logo to get a quick quote. Lone Star Cars1212 CommercePlano, Texas 75093Contact Sales DepartmentToll Free: 1-800-437-6960Phone: 972-612-2323Alt: 972-612-2323 Print DetailsEmail A FriendContact Dealer ©2003-2013AutoRevo- All Rights ReservedAuction counter powered byAutoRevo
Dealer Websites and eBay Templates Powered byAutoRevo
Dodge : Sprinter 2500 2006 Dodge Sprinter Low Miles Clean Carfax
Check out this great Sprinter Van listing
Current Price: $19950.00 | Bid $0.00 Now! | # of Bids: 0
End Time: 2013-02-12T16:12:59.000Z | Located in Postal Code: 75093