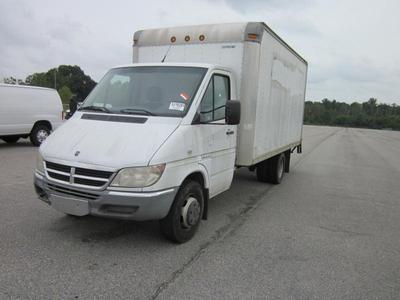 Dodge : Sprinter 14 ft box 2005 Dodge Sprinter 3500 Box truck. 158 wb. 14 ft box. wholesale SAVE
Check out this great Sprinter Van listing!
Current Price: $11685.00 | Bid $0.00 Now! | # of Bids: 0
End Time: 2012-11-08T19:11:12.000Z
| Located in Postal Code: 63146
2005 Dodge Sprinter 3500 Box
Truck158 in wheel base. 14-foot box, dual rear wheels.
Wholesale!!!!! $11,685 or fully reconditioned mechanically for $14,250.
SAVE!!!102K miles, VIN# WD1PD944555761172Call
314-546-7292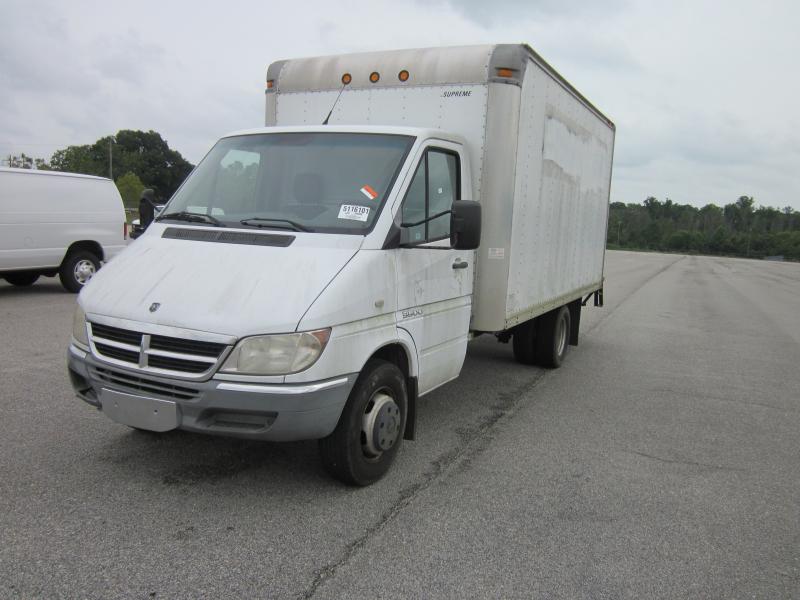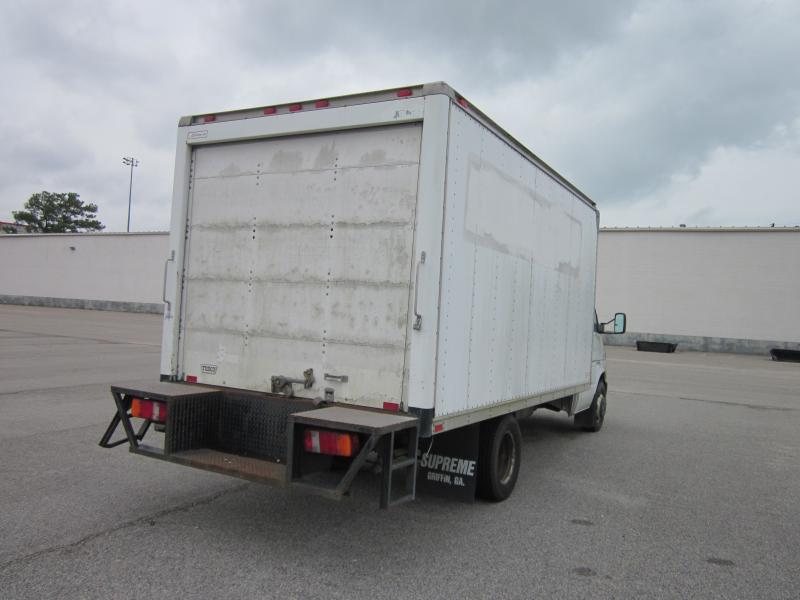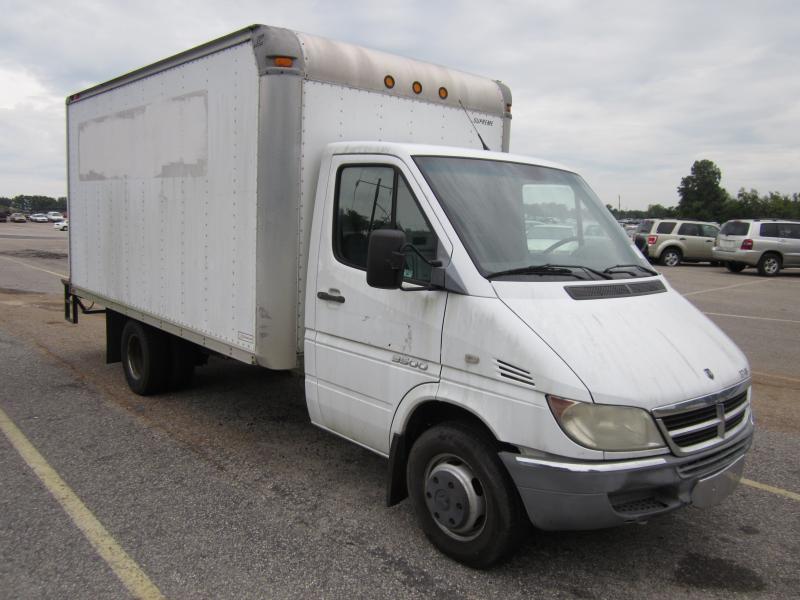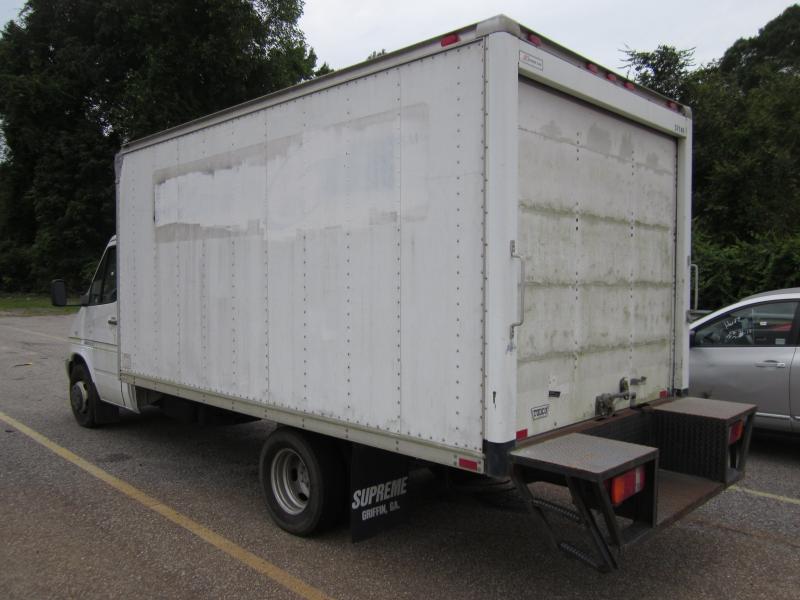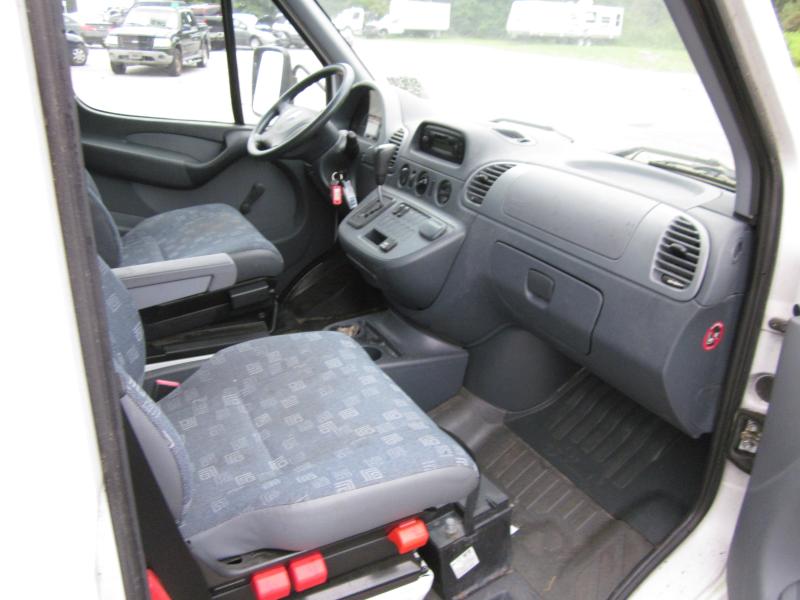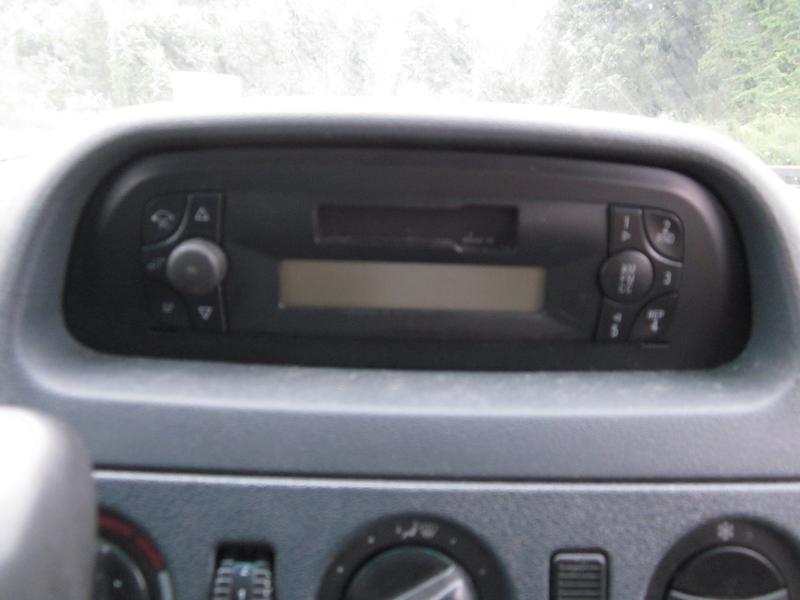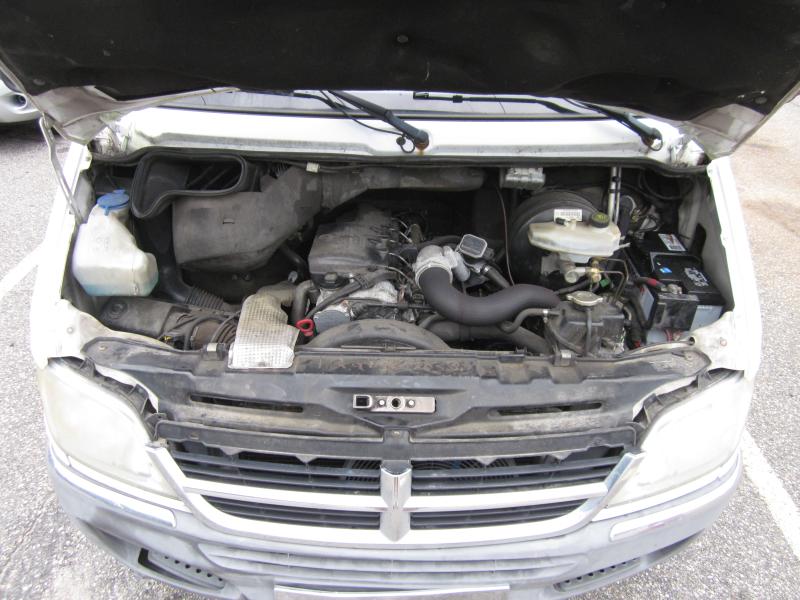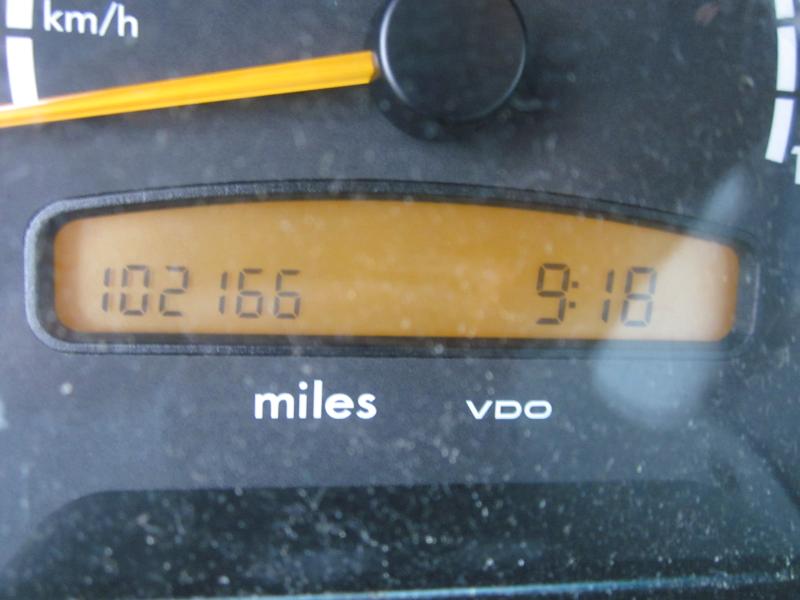 Service Information
Year/Model:
2005 DODGE SPRINTER 158 IN. 3500
CHASSIS
Last Odometer:
99,247 miles on May 11, 2009
Body Style:
VA3L06
In-Service Date:
March 24, 2005
Engine:
EX8-2.7L I5 Turbo Diesel Engine
In-Service Odometer:
100 miles
Transmission:
DGJ-5-Speed Auto W5A380
Transmission
Odometer Type:
miles
Color 1:
P01-Arctic White
Car Line:
R
Color 2:
Q01-Arctic White
Build Date:
January 22, 2005
Current Market Register:
U
Hour:
00
Book:
R
Vehicle Option - All
Standard Equipment
Code
Description
Code
Description
Code
Description
APAS
Monotone Paint
BDCS
100 Amp Battery
BGKS
4-Wheel Anti-Lock Brakes
BNMS
Traction Control
CDBS
Reclining Front Seats
CDXS
Driver Passenger Headrest
CD3S
Center Instrument Panel Cupholder
CGES
Passenger Air Bag
CGTS
Driver Air Bag
CLUS
Front Rubber Floor Covering
CUAS
Driver Seat Armrest
CVLS
Left Side Passenger Seat
Storage
CV4S
Front Ash Tray
CV7S
Passenger Seat Armrest
CYXS
Delete Rear Seating
DMES
3.72 Rear Axle Ratio
GBES
Windshield w/Filter Band
GK7S
No RT Sliding Door
GN8S
No Rear View Mirror
GTCS
Manual Mirrors
HABS
Air Conditioning w/Auto Temp
Control
JFHS
Tachometer
JJAS
Cigar Lighter
JJJS
12V Power Outlet Mounted in
IP
LAFS
Driver's Seat Belt Warning System
LAJS
Headlamps On Warning
LCKS
Front Dome Lamp
LMAS
Halogen Headlamps
MCCS
Gray Front Fascia
MEJS
Front Mud Flaps
MG4S
Dodge Badge
NEPS
Rear Extension Exhaust Pipe
NFWS
26 Gallon Fuel Tank
NHBS
Auxiliary Transmission Oil Cooler
Q01S
Arctic White
RAFS
AM/FM Cassette Radio
RCBS
2 Speakers
SBAS
Power Rack and Pinion Steering
SCFS
4-Spoke Steering Wheel
SHCS
Rear Stabilizer Bar
TBBS
Full Size Spare Tire
TBNS
Underslung Tire Carrier
TU4S
225/75R16 BSW All Season Tires
WDGS
16X6 Steel Wheels
WLAS
Dual Rear Wheels
WLBS
Steel Spare Wheel
XEGS
Hydraulic Jack
XELS
Tool Kit
XFYS
Fire Extinguisher Prep.
XWHS
Warning Triangle Bracket
YAAS
Build To U.S. Mkt.
Specifications
Z2CS
GVW Rating - 10200#
1AAS
U.S. Dealer Retail
166S
Zone 66-Orlando
3ENS
Term. Strip for Driver's Seat Box
3SKS
Export - Code
3SLS
Speedometer KM/Miles - USA
3S6S
Test Connections Hydraulic Brake
3XCS
Fuel Filter w/Water Separator
4AAS
Reinforced Door Hinges
4A2S
Fuel Preheating System
4JRS
Dual Rear Whl Chassis w/16 Tires
4KLS
Plates / Booklets English
4KRS
Company Plate Deleted (MB)
4XSS
National Version for USA
4XXS
License as Van
4XZS
Bodyshell Reinforcement, 3.88-t WV
41DS
Omission, Underfloor Preservation
42BS
No Parking Lamps
5AFS
158 Wheelbase
5ANS
Chassis Front / Control
5M1S
2005 Vehicle Specifications
58NS
Dismantle - Reassembly
594S
Vehicle Order Tracking
611S
Georgia Ship to State Code
911S
Georgia Sold to State Code
Optional Equipment
Code
Description
Code
Description
Code
Description
*B7
Cloth Bucket Seats
-AA
Gray
ACL
Accessory Group
AFD
Comfort Seating Group
AGH
Maintenance Group
BA6
150 Amp Alternator
CDDP
Luxury Bucket Driver Seat
CDUP
Manual Driver Pass Lumbar Adjust
CDYP
Luxury Bucket Passenger Seat
CSRP
Front Passenger Assist Handle
DGJ
5-Speed Auto W5A380 Transmission
EX8
2.7L I5 Turbo Diesel Engine
JFJP
Outside Temperature Gauge
LALP
Low Washer Fluid Warning Lamp
LBGP
Front Reading/Map Lamp
LMK
Daytime Running Headlamps, High
Beam
MJD
Front Fascia Chrome Trim
NAS
50 State Emissions
P01
Arctic White
TZHP
Michelin Brand Tires
XASP
Maintenance Monitoring Sys
(ASSYST)
XATP
Air Filter Restriction Indicator
XGF
Tail Lamp Extension Wiring
XZD
Exterior Mirror Extended (90.5
)
XZG
Body Electrical Prep.
2TAA
Customer Preferred Package 2TA
22A
Customer Preferred Package
22A
3FQP
Glass - Insulating w/Band Filter
4CCP
Make of Tires as an Optional Extra
4DX
Sprinter Refresh Tracking
4EA
Sold Vehicle
51VP
All Season Tires Tracking
We just purchased this vehicle of lease. Georgia vehicle (no
rust!). Buy it now (with defects noted below) for $11,685. (Delivery is
available to your door for $1/mile plus diesel fuel).Alternatively, we can
transfer the vehicle to our St. Louis facility and fully recondition it
mechanically with buy it now price of $14,250. Take your pick. (Limited time
offer)Material defects as disclosed by the leasing company:
VEHICLE DETAILS - 2005 DODGE
SPRINTER 3500
VIN:
WD1PD944555761172
Body Style:
4VAN
Top Type:
Hard Top
Ext Color:
WHITE
Int Color:
GRY
Odometer:
102,166
Work Order:
5116101
Seller:
FLEET LEASE DISPOSAL
Received Date:
08/24/2012
Sale Number:
44
Lane Number:
75
Run Number:
2
VEHICLE INFORMATION
OPTIONS

A/C
ABS Brakes

Cassette Tape
Dual Air Bags

Dual Rear Wheels
NO
US EPA Label
Owner's Manual
Pwr
Steering

Step Bumper
Warranty Books
MECHANICAL
5
Cylinder Diesel

Automatic
Pwr Brakes

4X2
2.7 L
INTERIOR

Odometer - 6 Digits Digital -Operable
Int
Odor: OK
Cloth

Regular Dash
Interior Condition -
Stained
TIRES AND WHEELS
Wheels:
Tire
Tread Depth
Brand
Size
Left Front:
6/32"
GOODYEAR
225/75R16
Left Rear:
3/32"
GOODYEAR
225/75R16
Right Front:
3/32"
GOODYEAR
225/75R16
Right Rear:
9/32"
GOODYEAR
225/75R16
Spare:
N/A
N/A
N/A
KEYS

Master Key - 2
OTHER

Title State: NC

Title Received Date:
09/24/2012
ADDITIONAL INFORMATION
AS IS, TMU, TMU= True miles unknown, Last reading
was 5/11/09 at 99Kmiles. Right now its at 102K. may be true, maybe not. Visual
condition of the vehicle represents 100K
miles.
Front Bumper Cover
Misaligned
F Bumper Cover R Center
Cracked
Lift Gate
Peeling
Horn
Inop
LR Tire
Worn
RF Tire
Worn
Warning - ABS
On
Warning - Engine
On
Warning - Traction Control
On
Dodge : Sprinter 14 ft box 2005 Dodge Sprinter 3500 Box truck. 158 wb. 14 ft box. wholesale SAVE
Check out this great Sprinter Van listing
Current Price: $11685.00 | Bid $0.00 Now! | # of Bids: 0
End Time: 2012-11-08T19:11:12.000Z | Located in Postal Code: 63146