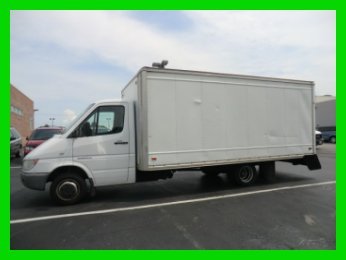 Dodge : Sprinter Sprinter I5 2004 Dodge Sprinter 3500 15 FOOT BOX REBUILT DIESEL ENG BACKED BY MB
Check out this great Sprinter Van listing!
Current Price: $15000.00 | Bid $15000.00 Now! | # of Bids: 0

End Time: 2012-09-25T19:23:21.000Z
| Located in Postal Code: 63011
Listing by Auction123.com copyright Auction123, Inc.
Royal Gate STL - 15502 Manchester Rd Ellisville, MO 63011 - 888-464-9553About
2004 SPRINTER WITH REBUILT DIESEL ENGINE WARRANTY BACKED BY MERCEDES, 15 FOOT BOX, CALL BOB LEWIS TO BUY IT NOW !! WON'T LAST !!CALL BOB @ (888)464-9553 !!Please call Bob Lewis @ (888)464-9553 for more Infol. Let me show you how I have streamlined the car buying experience. I will have the details completelydone before you ever arrive for delivery. Call Bob@ (888)464-9553 to discuss trade, ins., financing or for a detailed walk around. Bob Lewis (888)464-9553
Directions
Terms
Royal Gate STL15502 Manchester RdEllisville, Missouri 63011Click for Driving DirectionsAsk For:Bob LewisDirect Line:888-464-9553 Email:
Email SellerHours of Operation (CST):Monday-Weds-Friday08:30am-09:00pmTuesday-Thursday08:30am-06:00pmSaturday08:30am-05:00pm
Placing a Bid: Your bid constitutes a legally binding contract to purchase this vehicle. Please do not bid if you're not seriously interested or financially able to purchase this vehicle. Please read eBay's User Agreement
Royal Gate STL reserves the right to,
Obtain and verify the registered information of all users who bid on this auction.
Cancel any and all bids at our discretion, or end the auction early if necessary.
Bidders Age: You must be 18 years of age or older to Bid.
Special eBay Bid Retraction Rules: Please read eBay's "Retracting a Bid"
If you place a bid before the last 12-hour period of the auction:
You may retract that bid before that last 12-hour period but only for exceptional circumstances. You will not be allowed to retract that bid during the last 12-hour period of the auction.
If you place a bid during the last 12-hour period of the auction:
You will be allowed to retract the bid for exceptional circumstances but only if you do so within one hour after placing the bid.
Funds & Financing:
For help in arranging for a Pre-Approved loan or for any questions please

e-mail or phone at314-565-6831 prior to bidding.
Buyers Inspection: Royal Gate STLhas done our best to disclose all information known about this vehicle for auction. Royal Gate STL welcomes a buyers inspection. If you plan to have a buyers inspection, please make sure you inspect the vehicle prior to the auction ending. Inspection fees if any are Buyers responsibility.
Representations and Warranties made by seller: This vehicle is being sold "as is". Manufacturers warranties may still apply. Extended warranty may be available,

e-mail or phone at 314-565-6831 for details. No representations or warranties are made by seller, nor are any representations or warranties relied upon by bidders in making bids.
Taxes and Registration fees: Out of state buyers are responsible for all state, county, city taxes and fees, as well as title service fees in the state that the vehicle will be registered. All taxes and fees must be paid in full in order for vehicle to be titled and registered.
Title Information: Vehicles titles may be held by banks or lenders as collateral for loans. In many cases there is a delay in receiving the original instruments up to 21 days from the time we pay a vehicle off. While we usually have all titles in our possession at closing, there are occasions where we may be waiting for them to arrive. If payment is made by cashier's or personal checks we will hold all titles for 10 days or until funds have cleared.
Shipping & Delivery:
All shipping charges are buyer's responsibility. Royal Gate STLwill help with shipping arrangements but will not be responsible in any way for claims arising from shipping damage!
Licensed Carriers are generally insured for $3,000,000.00. We assume no responsibility for damages incurred after the vehicle leaves our showroom. All shipping arrangements are provided by Royal Gate STL as a courtesy. We are not affiliated with any carrier. Any claims or other communication regarding shipment of vehicles will be between you and the shipper, not with Royal Gate STL.
The amount of time it takes for delivery is dependent on the carrier, but is generally 7-14 days from the date the vehicle is picked up from our facility until it is delivered to your destination. Verify with the shipper for an Estimate Time of Arrival to be sure.
Finalizing your Purchase:
Royal Gate STL will contact the successful high bidder by e-mail after the auction closes.
Successful high bidder MUST communicate with at Royal Gate STL by

e-mail or phone314-565-6831 within 24 hours of the auction ending to make arrangements to complete their transaction. If we cannot confirm your intention to buy or the sale is not completed within 5 days, we reserve the right to relist this vehicle or sell to any other qualified buyer.
In order to secure bid on vehicle, Successful bidder (BUYER) must within 24 hours of bid closing send to Seller a Deposit in the amount of 10% by major credit card, cash in person or bank certified funds. Within 72 hours of bid closing, Buyer must send balance of funds by bank wire transfer, cash in person, bank certified funds to Seller.
At time of sending initial deposit, Buyer MUST fax copy of their State issued valid Driver Licence. Furthermore, before said vehicle is released for shipment to Buyer, all other Sale related and title related paperwork must be signed and returned complete to Seller. Fax no. is (888)816-0046 .Auction123, Inc. (a service and listing/software company) and the Seller has done his/her best to disclose the
equipment/condition of this vehicle/purchase. However, Auction123.com disclaims any warranty as to the accuracy or to the working condition of the vehicle/equipment listed. The purchaser or prospective purchaser should verify with the Seller the accuracy of all the information listed within this ad.CARFAX
CARFAX Vehicle History ReportDon't buy a used car without CARFAX!2 OwnersVehicle Qualifies for the CARFAX Buyback GuaranteeNo Total Loss Reported to CARFAXNo Structural/Frame Damage Reported to CARFAXNo Airbag Deployment Reported to CARFAXNo Indication of an Odometer RollbackNo Accidents / Damage Reported to CARFAXNo Manufacturer Recalls Reported to CARFAX
2004 Dodge Sprinter 3500 15 FOOT BOX REBUILT DIESEL ENGPriced to Sell Fast!!!
Click here for an XL view of the above Image
PrevNext
1
2
3
4
5
6
7
8
9
10
11
12
13

Secure Online Credit Application Form
Applying for a vehicle loan online is one of the quickest and easiest application methods. Our secure online application form is easy to complete, all you need are a few personal and employment details.Click here to get started.DescriptionBasic InformationVIN Number: WD1PD543845592389Stock Number: P8026Model Year: 2004Make: DodgeModel: Sprinter 3500 ChassisStyle Name: 158 In. WB DRWBody Type: VanVehicle Type: ChassisExterior Color: Arctic WhiteInterior Color: GraySuspensionIndependent Suspension: Independent FrontStabilizer Bar: RearSeatsSeating Capacity: 2Front Seat Type: BucketUpholstery: ClothFeaturesAux Transmission Cooler: RegularVinyl Floor Covering: Vinyl/RubberBumpers: ArgentDoor ReinforcementEngineEngine Description: 2.7L I5Fuel Type: DieselCam Type: Dual Overhead CamFuel Induction: Direct Diesel InjectionValves Per Cylinder: 4Aspiration: TurbochargedCompressor: Intercooled TurboCompression Ratio: 18.0:1Roof and GlassFront Wipers: Variable IntermittentConvenienceSteering Power: Hydraulic Power-AssistCupholdersDoor PocketsPower Outlets: 2SafetyDriver and Passenger AirbagABS: 4-WheelBrakes: 4 Wheel DiscTraction Control: ABSHeadlights: HalogenTurning Circle: 46.90Door ReinforcementFront Headrests: AdjustableSeatbelt: Front Height AdjustableTraction ControlDriveTrainTransmission: 5-Speed AutomaticDrive Train Type: RWDDriven Wheels: Rear-WheelWheels Rims: SteelWheels Spare Rim Type: SteelIn Car EntertainmentAudio System: AM/FM StereoSpeakers: 2Antenna Type: FixedComfortAir Conditioning: AutomaticShift Knob: Plastic/RubberSteering Wheel Trim: Plastic/VinylDimensionsMaximum Seating: 2Width: 78.50 InchesHeight: 94.50 InchesWeight: PoundsWheelbase: 158.00 InchesGround Clearance: 6.80 InchesMax Gross Vehicle Weight: 9990.00 PoundsGross Vehicle Weight Rating: 9990 Contact
Please call Bob Lewis @ (888)464-9553 for more Infol. Let me show you how I have streamlined the car buying experience. I will have the details completelydone before you ever arrive for delivery. Call Bob@ (888)464-9553 to discuss trade, ins., financing or for a detailed walk around. Bob Lewis (888)464-9553
Royal Gate STL15502 Manchester RdEllisville, Missouri 63011 Ask for: Bob Lewis Direct Line: 888-464-9553Email:
Email Seller
Email Seller
Email to Friend
Complete and submit the form below to send a message to our dedicated sales team.* First Name:* Last Name:* Email:* Phone: Ext. Preferred Method:PhoneEmailMessage:Complete and submit the form below to send a link and your message to a friend.First Name:Last Name:* Your email:* Friend's email:We won't use this information for promotional purposes or disclose it to a third party.Message:
Copyright © 2012 Auction123, Inc. - All Rights Reserved. Selling a Vehicle? Create Professional Listings Fast and Easy. Click Here!Image Hosting and Counters by: Auction123.com
On Sep-18-12 at 12:24:09 PDT, seller added the following information:

SAVE MONEYON SHIPPING!
uShip is the first and largest auction stylemarketplace for shipping and transportationservices.
Learn More


SHIPPING PRICE ESTIMATOR
Delivery ZIP Code:
MORE RESOURCES:
uShip Guides and Articles
uShip Provider Directory
Other Useful Tools & Links
Dodge : Sprinter Sprinter I5 2004 Dodge Sprinter 3500 15 FOOT BOX REBUILT DIESEL ENG BACKED BY MB
Check out this great Sprinter Van listing
Current Price: $15000.00 | Bid $15000.00 Now! | # of Bids: 0

End Time: 2012-09-25T19:23:21.000Z | Located in Postal Code: 63011