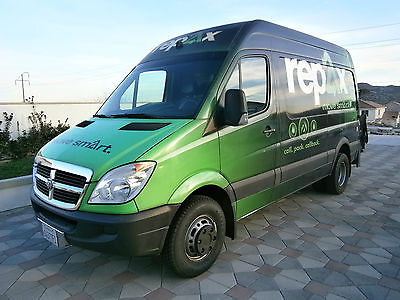 Dodge : Sprinter Base Standard Cargo Van 3-Door 2008 dodge sprinter 3500 standard cargo van 3 door 3.0 l
Check out this great Sprinter Van listing!
Current Price: $16500.00 | Bid $0.00 Now! | # of Bids: 0
End Time: 2015-02-24T01:12:46.000Z
| Located in Postal Code: 92570
2008 DODGE SPRINTER 3500NEW FRONT TIRES NEWER REAR TIRESTOMMY LIFT-GATE (EXT AND INT CONTROLS)GREEN REPAX LOGO IS A WRAP AND WILL BE REMOVED WITH BIN OPTION ONLY PLEASE SEE PICTURES FOR COMPLETE DETAILS YOU HAVE ANY QUESTIONS CALL EDDIE AT 714-926-8794 IT WILL BE MUCH FASTER THAN EMAILFOR A SHIPPING ESTIMATE CHECK WITH DEPENDABLE AUTO SHIPPERS, OUR ZIP CODE IS 92570 BUYER PAYS FOR SHIPPING. EDDIES MEMORIES IS A LICENSED AND BONDED CALIFORNIA DEALERSHIP. WE WILL COLLECT SALES TAX AND REGISTRATION FEES FOR ALL VEHICLES SOLD IN CALIFORNIA. WE HANDLE ALL PAPER WORK AND TRANSFERRING OF VEHICLE TITLE WITHIN CA. IF YOU ARE NON CALIFORNIA RESIDENT AND WISH TO HAVE IT TRANSPORTED THERE IS NO SALES TAX OR REGISTRATION FEES DUE. IF YOU WISH TO PICK IT UP AND DRIVE IT TO YOUR STATE, WE CAN PICK YOU UP AT THE AIRPORT. A $500 DEPOSIT IS DUE NO LATER THAN 3 DAYS AFTER END OF AUCTION THAT CAN BE PAID THROUGH PAYPAL. IF YOU USE THE "BUY IT NOW" OPTION YOUR DEPOSIT MUST BE MADE IMMEDIATELY. THE BALANCE MUST BE PAID IN LESS THEN 7 DAYS(UNLESS PRIOR ARRANGEMENTS HAVE BEEN MADE. NO MONTHLY PAYMENTS!!!! DO NOT BID IF YOU DO NOT HAVE THE MONEY OR LOAN APPROVED AND ONLY BID IF YOU INTEND TO BUY, SERIOUS BIDDERS ONLY. WE DO NOT OFFER FINANCING. YOUR BID IS YOUR CONTRACT, ANYONE WHO BACKS OUT WILL BE REPORTED TO EBAY. BID WITH CONFIDENCE CHECK MY FEEDBACK. TERMS OF SALE ALL INSPECTIONS MUST BE DONE BEFORE THE AUCTION ENDS, NO EXCEPTIONS! THIS VEHICLE IS BEING SOLD "AS-IS, WHERE IS" CONDITION WITH NO WARRANTY, EXPRESSED WRITTEN OR IMPLIED. ANY DESCRIPTIONS OR REPRESENTATIONS ARE FOR IDENTIFICATION PURPOSES ONLY AND ARE NOT TO BE CONSTRUED AS A WARRANTY OF ANY TYPE. IT IS THE RESPONSIBILITY OF THE BUYER TO HAVE INSPECTED THE VEHICLE, AND TO HAVE SATISFIED HIMSELF OR HERSELF AS TO THE CONDITION AND VALUE AND TO BID BASED UPON THAT JUDGMENT SOLELY. THE SELLER SHALL AND WILL MAKE EVERY REASONABLE EFFORT TO DISCLOSE ANY KNOWN DEFECTS ASSOCIATED WITH THIS VEHICLE AT THE TIME OF LISTING AND AT THE BUYER'S REQUEST PRIOR TO THE CLOSE OF SALE. SELLER ASSUMES NO RESPONSIBILITY FOR ANY REPAIRS NEEDED AFTER THE VEHICLE IS DELIVERED. ALL SALES ARE FINAL. BY PLACING A BID ON THIS VEHICLE YOU ARE ENTERING INTO A LEGAL AND BINDING CONTRACT TO PURCHASE THE ABOVE-DESCRIBED VEHICLE. I RESERVE THE RIGHT TO CANCEL ALL EXISTING BIDS AND END THE AUCTION EARLY SHOULD THE ITEM NO LONGER BE AVAILABLE FOR SALE.
Dodge : Sprinter Base Standard Cargo Van 3-Door 2008 dodge sprinter 3500 standard cargo van 3 door 3.0 l
Check out this great Sprinter Van listing
Current Price: $16500.00 | Bid $0.00 Now! | # of Bids: 0
End Time: 2015-02-24T01:12:46.000Z | Located in Postal Code: 92570