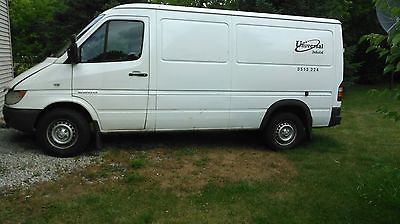 2006 Dodge Sprinter 2500 2006 Dodge Sprinter 2500
Check out this great Sprinter Van listing!
Current Price: $1150.00 | Bid $1175.00 Now! | # of Bids: 25
End Time: 2016-11-25T17:03:27.000Z
| Located in Postal Code: 48166
2006 dodge sprinter 2500. diesel all original drive terrain. this has the Mercedes engine, so it will last forever just about. runs and drives great. no longer needed. has newer tires with about 85% tread. seats are not all tore up. this is the standard size box, not the extra tall or long version so the suspension is not all wore out. have the secure tack installed in the floor that way you can strap down your loads with out shifting. very strong vehicle will haul just about anything you can fit in it. does come with two straps. no partition. and the radio was removed, engine like comes on sometimes , needs rear O2 sensor but runs good and doesn't smoke with out it. The radiator resivor does have a small pin hole that leaks a bit. No other leaks visible under the vehicle. there is some body surface rust that has been painted over but leaching back trough.. would need some touch up, but can't tell when driving it down the road. New battery and oil change recently. blower motor works just not very hard blowing.. great work vehicle ready to put on the road and make money for you.
seller reserves the right to end auction at any time due to vehicle for sale locally also. please contact if want to come see or test drive any time.
Non refundable deposit due at end of auction of $500.00 immediately remainder payment due with in 3 days end of auction and vehicle pick up responsibility of buy within 7 days end of auction.
2006 Dodge Sprinter 2500 2006 Dodge Sprinter 2500
Check out this great Sprinter Van listing
Current Price: $1150.00 | Bid $1175.00 Now! | # of Bids: 25
End Time: 2016-11-25T17:03:27.000Z | Located in Postal Code: 48166